Welcome to the Planetary Data System Atmospheres Node
New Horizons Jupiter Encounter Page
The data are housed at the PDS Small Bodies Node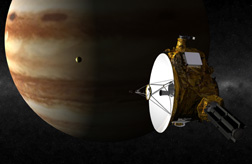 The New Horizons spacecraft, launched in January 2006, was designed to study small worlds in our outer solar system. It will fly by Pluto and its large moon Charon in July 2015, and from there will continue onward to encounter another Kuiper Belt Object. In February 2007, New Horizons flew past Jupiter for a gravity assist, which aided the spacecraft in getting on its trajectory to Pluto. As it flew by Jupiter, New Horizons tested out its instruments and collected science data along the way. The New Horizons spacecraft is equipped with seven instruments designed to study the atmosphere and surface of Pluto and its environment. More detailed information about the individual instruments and their data sets can be found below.
Image Credit:
Johns Hopkins University Applied Physics Laboratory/
Southwest Research Institute (JHUAPL/SwRI)
The science data that were acquired by New Horizons during its Jupiter encounter was focused on four aspects of the Jupiter system: the Jovian atmosphere, Jupiter's moons, its ring system, and its magnetosphere. The Jupiter science opportunities web page on the New Horizons web site contains more information about the Jupiter encounter. The New Horizons Jupiter data were delivered to the PDS. The PDS must still validate these data before they are considered archived, although the data are online provisionally while they are being validated. The PDS urges caution when using any data that have been released to PDS for less than three months. Also be aware that some of the links below may not yet be operational or may lead to incomplete web pages until the data have been delivered and validated.
The New Horizons spacecraft is equipped with the following instruments:
The Small Bodies Node is the PDS lead archiving node for New Horizons and is responsible for archiving all of the Jupiter flyby data in addition to all of the Pluto encounter data. The LORRI images from the Jupiter encounter are also being made available from the New Horizons Science Operations Center.
For those interested in advanced navigational information from the New Horizons Jupiter Encounter, the SPICE Kernel may be found here.
Instruments and Data
Follow the instrument links above to find information about the New Horizons data products online. For a brief overview of each instrument's parameters, consult the table below.

Instrument Name

PI

Wavelength / Energy / Mass Range

Field of View (milliradians)

Angular resolution (milliradians / pixel)

Wavelength / Energy / Mass Resolution per pixel

Dates of Observations in this Data Release

Alice: Ultraviolet mapping spectrometer
Alan Stern, SwRI
52 - 180 nm
1.7x 70 (slit). 35 x 35 (solar occultation aperture)
1.7 x 5.2
0.183 nm
02/22/07 - 03/04/07
LORRI: Long-Range Reconnaisance Imager
Andy Cheng, APL
350 - 850nm
5.08 x 5.08
0.00496
N/A
02/21/07 - 03/07/07
Ralph MVIC: Multispectral Visible Imaging Camera
Alan Stern, SwRI
450 - 1000nm (Pan);
425 - 550nm (Blue);
540 - 700nm (Red); 780 - 1000nm (IR);
860 - 910 nm (CH4)
Multicolor: 100 x N (pushbroom). OpNav, pan only: 100 x 2.6 (framing)
0.02
See filter bandpasses
02/25/07 - 03/03/07
Ralph LEISA (Linear Etalon Imaging Spectral Array): Infrared spectrometer
Alan Stern, SwRI
1250 - 2500 nm
15.9 x 15.9
0.062
Full spectral range: R=300
(~6.5 nm / pixel).
2100 - 2250 nm: R=600
(~3.7 nm / pixel).
02/24/07 - 03/03/07
REX: Radio Science Experiment
Len Tyler Stanford University
4.1 cm.
20
20
Radiometry mode: N/A. Occultation mode: 3 x 10-13 in Δf/f
SDC: Student Dust Counter
Mihaly Horanyi, U. Colorado
4x10-12 - 4x10-9 g
~p
N/A
~ factor of 2 in mass
04/04/07 - 06/27/07
PEPSSI (Pluto Energetic Particle Spectrometer Science Investigation): Medium energy particle spectrometer
Ralph McNutt, APL
25 - 1000 keV (protons); 60-1000 keV (atomic ions) ;
25 - 500 keV (electrons)
160 deg x 12 deg
25 x 12 deg
0.25 keV
01/05/07 - 06/20/07
SWAP (Solar Wind Around Pluto): Low energy plasma instrument
Dave McComas, SwRI
30 eV - 7.7 keV
270 deg x 10 deg (deflection angles up to +15 deg additional)
N/A
1 eV (<2 keV)
9% (>2 keV)
01/07/07 - 06/19/07
Table adapted from
New Horizons Mission Instrument Suite
website.
Data from the New Horizons mission has also been made available through PDS-D, the Planetary Data System online distribution service.
Subscribe to the PDS Subscription Service to be informed of new data releases.
New Horizons Resources
More information about the mission can be found on the New Horizons web site.
Preprints of the New Horizons Space Science Reviews papers, containing detailed information about the mission, the spacecraft, and the instruments, can be found either here, or alternately in the "about" section of each of the instruments specific pages above.