HASI - Huygens Atmospheric Structure Instrument
Overview


The Huygens Atmospheric Structure Instrument (HASI) was designed to measure the physical properties of Titan's atmosphere during the entry and descent phase and at the surface. Specifically, it measured atmospheric deceleration, pressure, temperature, and electrical conductivity, ion conductivity, acoustic noise, and radar echoes below 60 km altitude.

NOTE: Please read the ERRATA.TXT file for information about errata and updates to the HASI data set. Version 1.1 of the data set is the version that is currently available on these web pages.
Data Example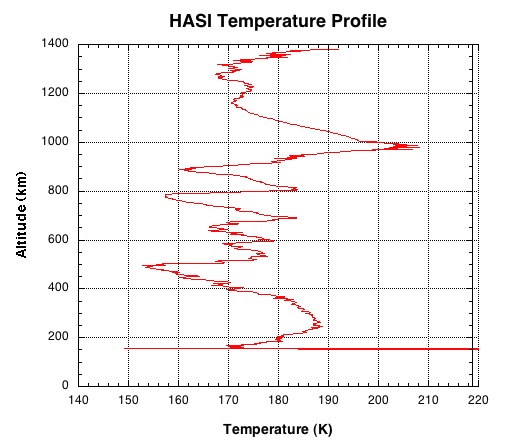 Plot of temperature as a function of altitude as measured by HASI.
The HASI Tabs


The tabs associated with this page describe the HASI data files and how to obtain and use them.
---
Huygens Home
|
Atmospheres Node Home